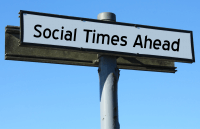 Categories:
Here's a reality check. Today, Facebook has more than one billion active monthly users. Twitter boasts 500 million users and more than 200 million people are on LinkedIn. YouTube has 800 million users, reporting four billion views per day. Social media now accounts for 18% of all time spent online and more than half of people in the U.S. now have a social media profile. Because social media is now a part of our very lives, we can certainly admit it is here to stay.
Because one customer can generate instant 15 minutes of fame from one single tweet, social customer service should not only be part of your customer experience program, but also part of your day. At first thought, successfully integrating social media seems like a challenge. However, many customer service teams are taking small steps to ensure they are part of the conversation and engaging their customers where they spend most of their time.
Watch and learn a few quick tips from an Intradiem Customer Success Manager on how her clients are bringing social customer service into the contact center.