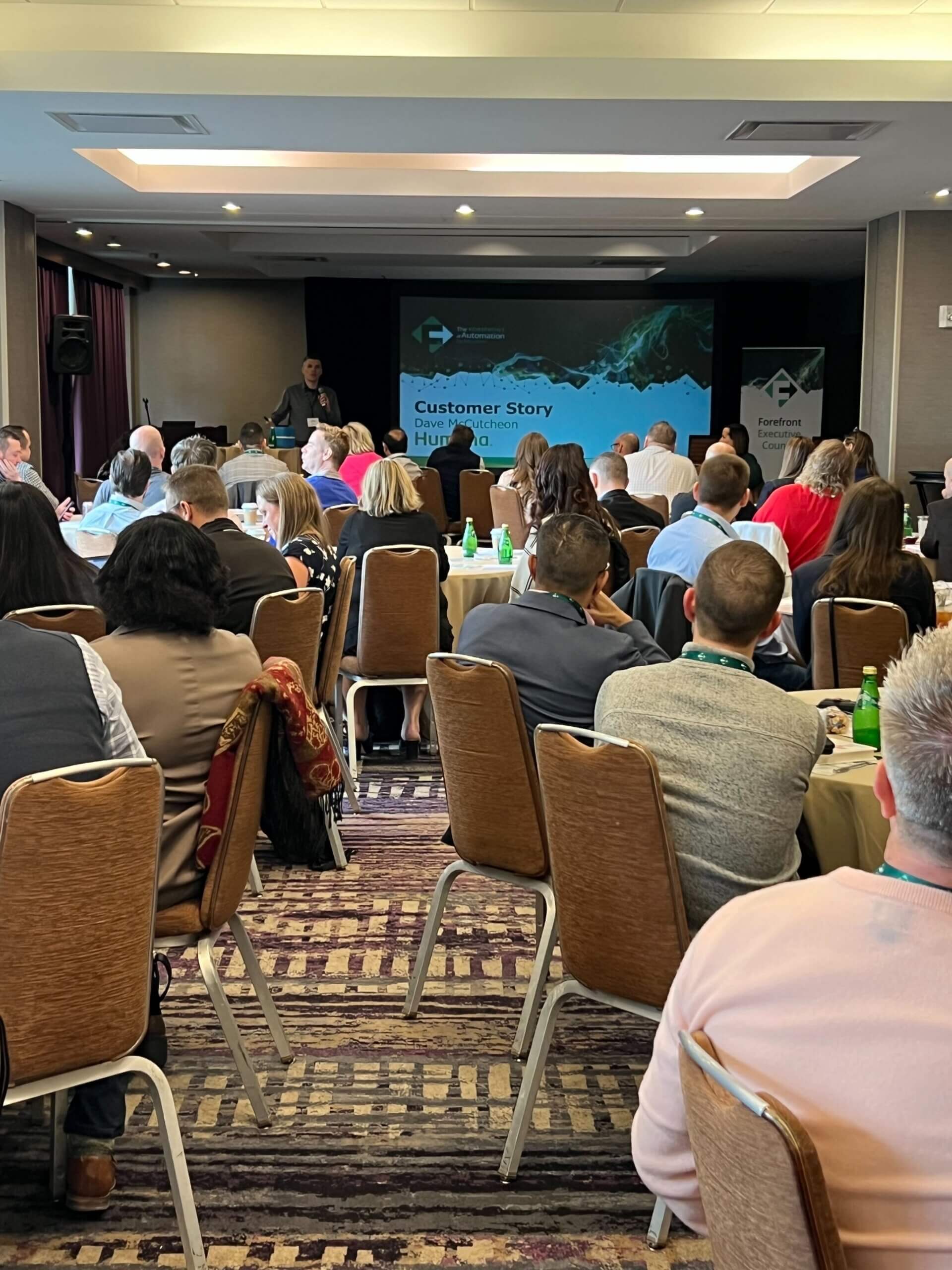 Published:
March 21, 2023
Categories:
Intradiem's Forefront Executive Council (FEC) gathered recently in Scottsdale, Arizona, for discussions on how companies across the business landscape are leveraging technology to reinvent customer service for everyone.
In recent years, Forefront has been bringing together forward-thinking industry leaders to share best practices on how automation is revolutionizing customer service by boosting efficiency, strengthening agent engagement, and improving the customer experience. Sixty-five customers from several iconic brands joined senior Intradiem executives for this two-day summit.
This first 2023 installment of Forefront took place in a context of economic and financial uncertainty, with many businesses facing little to no margin for error. Customer service delivery is in flux, driven by shifting customer expectations, expanding access channels, remote and hybrid workforces, and rapidly evolving technology. Forefront provided a unique opportunity for industry leaders to share insights on how their organizations are leveraging automation to maintain efficient operations in the midst of uncertain market conditions and high agent attrition.
The two-day session featured an interactive workshop based on Simon Sinek's 2019 book, The Infinite Game. Participants evaluated "finite" versus "infinite" mindsets and how they shape organizational leadership. The infinite mindset describes the responsibility of a business to remain purposeful, to protect its people, and to generate sustained profitability by following five cardinal principles: advancing a just cause, building trusted teams, studying worthy rivals, preparing for existential flexibility, and demonstrating the courage to lead.
Forefront also featured customer success presentations from senior contact center leaders at three Intradiem customers. One healthcare industry customer described the organization's highly successful implementation of Intradiem use cases and dramatic results including a 4.5X annualized ROI during the first quarter of operations. Another healthcare industry customer demonstrated how improved efficiency from Intradiem technology saved the business 1,700 hours of customer service agent off-phone time. And a financial services industry customer outlined its successful Intradiem technology pilot program and explained how that success paved the way for subsequent expansion to include investments in additional Intradiem use cases.
Ted Lango, Intradiem's Senior VP of Business Enablement and founder of WFM Labs, offered a detailed presentation on the future of workforce management. Ted described how automation technology is poised to enable a new era of dynamic planning, and how new innovations will allow customer service organizations to finally overcome persistent challenges to workforce planning efficiency caused by fragile capacity plans, high agent attrition, and the necessity to engage in reactive problem solving rather than proactive problem avoidance.
In addition, Intradiem's Senior Vice President of Customer Success discussed the valuable contribution of customer feedback to Intradiem's pursuit of continuous product and service enhancements, and Chris Busbee, Vice President of Product Management, provided an update on Intradiem's future vision and product roadmap with emphasis on the benefits of Intradiem's newly modernized platform and the status of the company's machine learning and artificial intelligence priorities.
The Forefront Executive Council will meet again in the Fall. Be on the lookout for details.