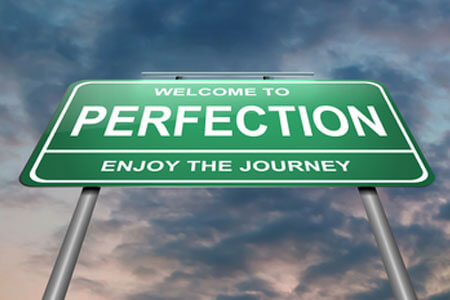 Categories:
Everyone knows the old saying, "Nobody's perfect," and since customer service is delivered by human beings, it won't always be perfect either. There will be mistakes, problems and complaints – hopefully not many, but they will happen from time to time.
However, there can be a benefit to striving for perfection. If the goal of your customer service is perfection, you are well on your way to providing excellent customer service.
I heard my friend and colleague Art Holst speak at an event recently, and his words got me thinking about this idea and about customer service motivation. Art is a former NFL referee and he talked about his friend Bart Starr, an NFL star quarterback. Starr is known for the following quote:
"I don't think it makes sense to strive for perfection. Perfection is not attainable. I believe totally in striving for excellence, and I think there is a great deal of difference between the two. Although we strive for excellence, we set sensible goals because one of the most frustrating things in the world is to set our goals so high that we have no chance of reaching them."
I found another quote on the same topic by Edwin Bliss, author of "Getting Things Done." Similar to what Starr said, Bliss stated:
The pursuit of excellence is gratifying and healthy. The pursuit of perfection is frustrating, neurotic, and a terrible waste of time.
Both of these quotes make a distinction regarding the reality of reaching perfection. Perfection is not reality, but by setting a goal of perfection – and having a realistic understanding that there will be a glitch now and then – will still set you on the path to excellence.
Related: Intradiem Examines Customer Experience Impact on Cable Providers in Consumer-Driven Market
You will have interactions in which the customer service you deliver seems perfect. It is attainable – but in reality, not 100 percent of the time. We wouldn't be human if something didn't go wrong sometimes. Look at those times as opportunities, though, and use them to offer excellent customer service by addressing the complaint or problem in a way that impresses the customer. A good recovery can actually increase the customer's confidence.
I can't think of a time when I've heard a company's customer service referred to as "perfect." However, words like "great," "amazing" – these are used to describe many top companies' customer service.
So, shoot for perfection! Even if it's realistically unattainable, just having perfection as a goal will ensure that excellence is within reach.
Shep Hyken is a customer experience expert and the Chief Amazement Officer of Shepard Presentations. He is a New York Times and Wall Street Journal bestselling author and has been inducted into the National Speakers Association Hall of Fame for lifetime achievement in the speaking profession. Shep works with companies and organizations who want to build loyal relationships with their customers and employees. For more articles on customer service and business go to http://www.hyken.com.