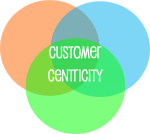 Published:
February 26, 2013
Categories:
Most contact center organizations no doubt believe they are customer-centric, and they do indeed try to back that claim up with action. The problem is that many centers have struggled to break free from traditional (and at times antiquated) operational models and strategies. Thus, these centers continue to embrace metrics, processes, practices and tools that do little to enhance the experience of today's savvy and demanding customer.
Contact channels and technologies have evolved rapidly. Competition has increased exponentially. The entire customer care landscape has changed. So must contact centers' approach to engaging and retaining every customer who calls on them.
Here are five traits that today's most customer-centric contact centers have in common.
1) They measure quality from both the company's and the customer's perspective. The most customer-centric centers not only have invested in advanced quality monitoring tools that record and view what the customer experiences during each transaction, they have invested in post-contact surveying tools that find out exactly how the customer felt about his or her interaction with the center's agent. Using either an IVR-based survey, an email survey, or a survey conducted by a live third-party specialist following an interaction, the contact center gathers critical customer feedback that can be incorporated into agents' monitoring scores and coaching, and which can be used to make improvements to training, operational processes, workflows, and actual products and services.
2) They capture key customer data and sentiment to continuously enhance service, sales and loyalty. The modern contact center represents the ears of the organization – gathering dizzying amounts of customer data on a daily basis. The best centers represent not just the ears but also the brains of the organization. They not only gather but also intelligently process the dizzying amounts of customer data, thus enabling the organization to continuously personalize service, enhance products, bolster revenue and build relationships. Sophisticated CRM tools, dedicated analytics teams, careful evaluation of post-contact customer survey results – these are among the major ways today's center keeps its hand on the pulse of the customer and provides fast, personalized, often even proactive, service and support.
3) Their KPIs are strongly focused on the customer, not just on efficiency. The days of call centers' obsession with quantitative measurements are over – at least for successful contact centers. Today's top centers understand the importance of cutting through the clutter of available stats and data to find the metrics that truly impact – and reveal key insights into – the customer experience and agent behavior.
The most customer-centric organizations now focus less on things like Average Handle Time (AHT) and Calls per Hour and more on metrics like Contact Quality, First-Contact Resolution (FCR) and Customer Satisfaction (C-Sat). This is not to suggest that centers should have no productivity-based metrics in place to help gauge performance. But rather than emphasize things like AHT, smart centers foster agent productivity by highlighting the importance of things like schedule adherence, thus ensuring that agents are in the right place at the right times. With good agent adherence, most centers – assuming agents are well-trained and have the tools they need – find that things like number of calls handled gets taken care of.
4) They embrace social customer care. Social customer care has rapidly moved from "nice to have" to "need to have" for today's contact center. An ever-increasing number of consumers now expect organizations to react quickly to the requests, comments and complaints posted on social sites such as Twitter and Facebook.
The best contact centers have answered the call by developing and effectively implementing comprehensive social customer care strategies. These centers have "socialized" their agents (training them on when and how to interact with customers via social sites), as well as harnessed the power of an advanced social media monitoring solutions, which make it easy for agents to engage with customers and provide proactive service as well as damage control. Some organizations have even created their own engaging online community for customers. Such communities serve as an invaluable source of customer feedback and insight for the company – they even help reduce the number of routine customer calls, emails and chats that agents have to handle since customers can getting many of their questions answered by community peers as well as by reading helpful tutorials and blogs provided proactively by the company.
5) They ensure high levels of agent engagement. Everybody knows that happy employees result in happy customers; however, happiness is often not enough to build and sustain customer loyalty in today's highly competitive business arena. To truly engage customers and drive business results, the best contact centers know they must truly engage agents.
Agent engagement is much more than just a soft HR buzzword or snazzy synonym for agent satisfaction. Satisfaction, in fact, is only one component of engagement. Fully engaged em­ployees are not only satisfied with their job, but also loyal to – and proud of – the organization for which they work. They are committed to its customers and its goals, and are inspired to drive change in hopes of helping the organization, and themselves, to continually improve and evolve. Some of the ways leading contact centers generate and sustain high levels of engagement among their agents include:
rewarding and recognizing agents in ways that are meaningful to them,
providing ongoing training and development opportunities for staff
empowering agents to work on interesting and challenging projects and task forces
actively seeking agent feedback on ways to improve key processes and practices in the center
So, I guess it could be said that the most customer-centric centers are typically the most employee-centric centers. In fact, as important as all the practices listed in this article are, nothing dazzles customers – nor is as "visible" to them – as a human being on the other end of the phone (or chat or email) who is courteous, informed, efficient and, most importantly, inspired.