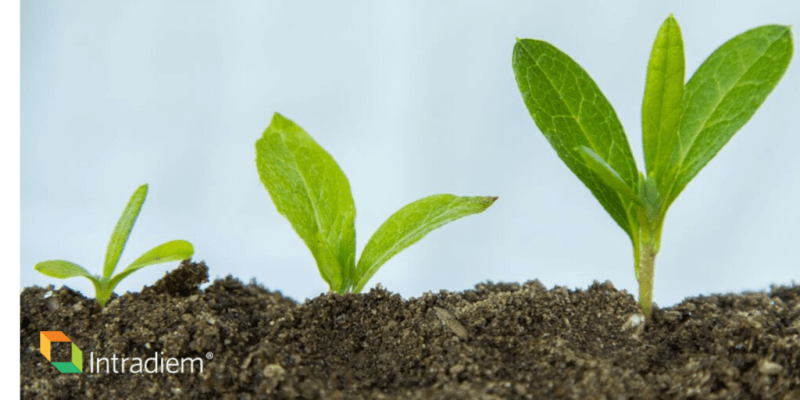 Published:
September 16, 2019
Intradiem's latest release marks the third generation of our product. What was once an on-premise training solution is now an enterprise SaaS workforce automation platform. Throughout this evolution, many things have changed, but our focus on improving the customer service experience has remained constant. From training technology to mission-critical automation platform, here's a quick look at some of the milestones and brief history of Intradiem.
1995
Intradiem founded in 1995
Our first generation product was an on-premise solution for dynamically delivering bite-sized blocks of training and task management during optimized idle time. Customers appreciated the agent development value as well as the cost savings since these off-phone tasks no longer contributed to shrinkage.
2006
Intradiem Transitions to SaaS Model
We made the strategic decision to deliver the Intradiem solution online via a subscription model, rather than installed on premise at individual customer locations. The decision made the solution more accessible to a broader range of companies trying to solve contact center challenges.
2014
Second Generation Solution
We took a giant leap with our Intradiem 9.5 SaaS solution. Based on an upgraded platform and rules engine, the second generation platform expanded an organizations ability to dynamically deliver multiple activities beyond training and communications – with an enhanced user interface.
The result was increased productivity across our partner organizations with customers able to realize faster, measurable investment returns.
October 2018
One Billion Automated Actions
We hit a first-ever industry milestone of automating over 1 billion actions per year. Matt McConnell, Intradiem CEO said, "Enabling one-billion automated actions is like providing call center directors with one billion assistants at their finger-tips. We now power the fastest and most cost efficient tool enabling clients to vastly improve customer experience while improving agent productivity."
"We have realized millions of dollars in savings by not only taking advantage of offline time but being able to notify agents when certain performance metrics are out of line such as extended ACW, allowing them to spend more time focusing on productive work."

–Scott D., Workforce Operations Manager, Insurance Customer
2019
Third Generation Solution
As we move forward, the Third Generation of the Intradiem platform offers enterprise security, and enhanced scalabilities. With an expanded offering of new use cases, the platform continues to add value by improving efficiencies and ROI while improving agent engagement and the end customer experience.
Workforce Automation – Third Generation:
Capabilities and efficiency
Platform scalability
Enterprise security
User experience
Analytics
Customization
New Use Cases:
Hold Time Assistant – monitors the amount of time a customer is waiting while placed on hold
Call Consult Assistant – monitors the amount of time a customer waits while the agent is consulting on how best to handle the customer's inquiry
Coaching Assistant – provides more time and visibility for 1:1 coaching with agents
Agent State Analysis – provides the real-time monitoring and ability to take action on current and aggregated call handling states
For more information or to learn more about the new use cases, contact us or request a demo.