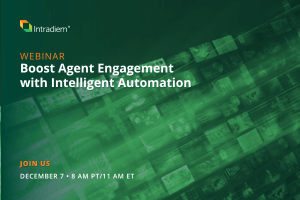 Event Date: December 7 - December 7
Start Time: 11:00 am
End Time: 12:00 pm
About this event:
Working in the contact center is not for the faint of heart. Customers need issues solved right away. Conditions and metrics are constantly changing. It can be a thankless job. But it doesn't have to be this way.

Watch this webinar to learn how hundreds of thousands of customer service agents, supervisors and managers are using Intelligent Automation every day to:
Optimize how agents spend their time 

Improve agent engagement 

Reduce workforce management administrative tasks
Our customers have saved hundreds of millions of dollars by using Intelligent Automation while improving agent engagement and delivering better customer experiences.
Intelligent Automation was created specifically for customer service teams. The technology easily integrates with your existing Automatic Call Distribution (ACD) and Workforce Management (WFM) systems to boost agent engagement and productivity.