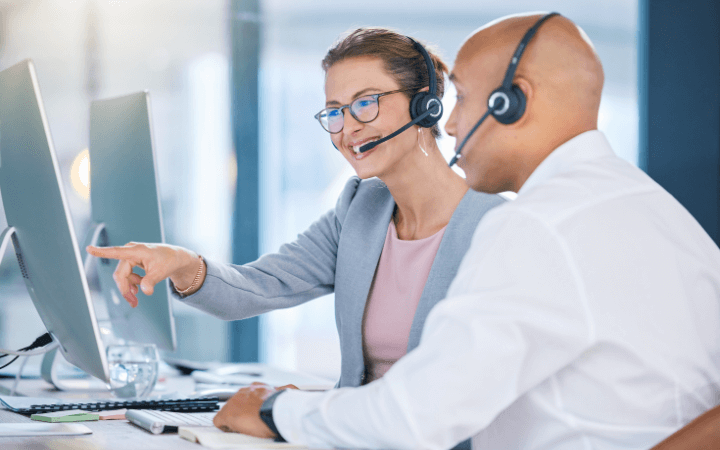 Categories:
Intelligent automation is driving successful contact center operations by boosting the performance and engagement of frontline agents—whether remote or in-center—and empowering them to deliver the quality experiences customers demand.
A successful contact center operation depends on a coordinated performance among operations, supervisors, and agents. But agents are the primary customer touchpoint, so it's particularly important to ensure their ability to deliver not only positive outcomes but also quality experiences: in a significant sense, an organization's reputation depends on the experiences of every customer who reaches out to customer service. Increasingly, intelligent automation plays a major role in the process.
Why? All centers take measures to support their agents, but all too often, those measures are not enough to alleviate the many frustrations associated with the job and the high rate of attrition it's known for.
That shortcoming can be overcome by automation. Intelligent automation, an AI-powered technology, helps ensure that agents get the all-around support they need to be successful. Through its unique ability to process the massive quantities of time-sensitive data generated by contact centers and translate that data into immediate, automated actions—triggered by actual, evolving conditions—intelligent automation drives agent efficiency and engagement, which in turn yields consistent, world-class experiences that reinforce an organization's customer service reputation.
Intelligent Automation as Command Center
Intelligent automation acts as a command center, integrating seamlessly with ACD and WFM systems to monitor call volume as well as staffing and workflow processes. It allows organizations to set parameters and define thresholds according to their particular needs, which trigger automatic responses that help agents always remain prepared to perform at the highest level.
For example, by monitoring center-wide operations and as well as agents, intelligent automation identifies in real time unforeseen moments of opportunity (e.g., agents idled by a sudden dip in call volume) to fulfill important training, coaching, or other professional development activities. An alert to begin a training session is delivered directly and automatically to the agent's desktop. There's no need to plan for or move to a training room, and if call volume suddenly picks up again, the agent is notified—again, directly—to return to work. The training session is paused until another opportunity arises.
What Could Go Wrong?
On a typical day in a typical contact center, where hundreds of agents answer thousands of incoming customer calls, emails, chats, and other contacts, schedules are tightly calibrated, but deviations are inevitable. Scheduled agents may arrive late or not at all, they may or may not warn supervisors in advance, incoming calls may alter an agent's scheduled break, lunch, or end of shift, prescheduled training sessions may be interrupted by "all hands on deck" alerts when call volume spikes, etc.
Automation—specifically intelligent automation—can transform these schedule-busting complications that often dominate a workforce manager's day into a set of data points on an end-of-shift report.
For example, if an agent working in a queue in which calls average seven minutes completes a customer call three minutes before her scheduled break, taking another call immediately will eat into that break. But intelligent automation recognizes that the agent is due for a break in three minutes and automatically alerts her to take her break early, reroutes the next call to another agent, updates the time of the break in the WFM system, and notifies the agent and supervisor that the break was taken early.
The agent takes her full break, customer calls continue to be answered without added delays, and the workforce manager remains free to focus on more strategic projects rather than pausing work already underway to manually update the WFM schedule.
Gimme a Break
Aside from eliminating common frustrations from the agent's workday (in the above example, she got her full break), intelligent automation can also deliver "surprise" breaks to reward agents when circumstances permit. This is a unique example of the technology's ability to simultaneously contribute to agent satisfaction (by offering an unplanned breather) and increase efficiency/productivity (by repurposing idle time as a wellness break) when call volume is low.
The organization can set the system to prioritize agents by whatever metrics it chooses (those with mandatory assignments awaiting completion or hours worked that day or that week, etc.) and automatically deliver those morale-boosting (and cost-reducing) breaks when call volume slows—assuming enough agents are available to ensure service level continuity.
Through its capacity to capture, process, and act on multiple sources of real-time data flows, intelligent automation helps organizations make smarter minute-to-minute decisions and grow more adaptive to emerging trends in customer service. It eliminates repetitive, low-value tasks and enhances agents' ability to focus greater attention on the "human" skills—like flexibility and empathy—that are most valuable for resolving issues and making customers feel valued.
Remote or In-Center
The pandemic forced a massive transformation on the contact center agent function, which was not really suited for remote work. In-center, supervisors had line-of-sight vision over agent teams and could respond to visual signs of trouble. Obviously, that vision disappeared when agents were forced to work remotely.
But intelligent automation—a "location-agnostic" technology—allowed centers to adapt quickly and provide the same high-quality support and productivity tools to agents anywhere, as long as they had access to the Internet. Cloud-based, scalable, and intuitive, it enabled contact center operations to transition quickly to a remote-only workforce model and then pivot smoothly to the remote-hybrid workforce model, which has now emerged and is likely to dominate operations moving forward.
In a time of great upheaval, AI-powered intelligent automation enabled many contact centers to survive during the pandemic by cushioning the shock of going remote, providing geographically scattered agents with a vital sense of ongoing connection to their managers, camaraderie with their colleagues, and shared culture at their companies.
Intelligent Automation Creates a Virtuous Circle
Contact center agents solve problems for human customers thanks to their uniquely human capacity for empathy and situational dexterity—traits that no automation technology can mimic today or will likely be able to mimic anytime soon. But automation is still a key ingredient in successful customer service delivery. By automating repetitive, manual tasks and providing an unprecedented level of support, AI-powered intelligent automation makes the agent's job less stressful and more rewarding. More engaged agents are more likely to create better end-customer experiences. And that is always good for business.
---
This article was originally published on RTInsights.