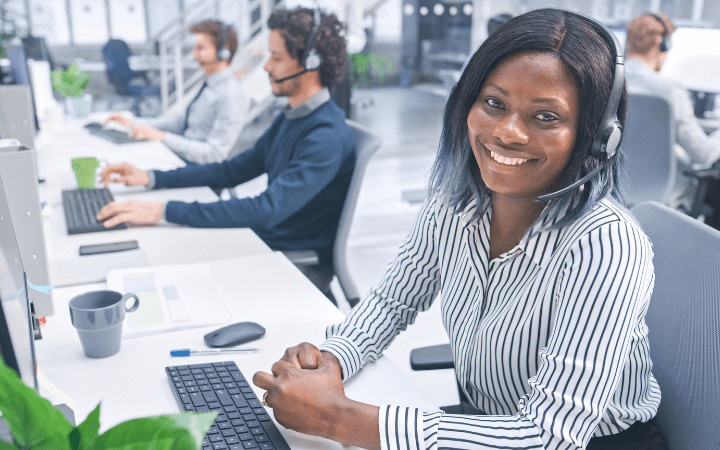 Published:
February 15, 2022
Categories:
As 2022 advances, I hope we'll see the pandemic weaken, the economy strengthen and consumers thrive. These past two years have taught us a lot, including the fact that consumers whose lives are disrupted and whose futures are uncertain need customer service that's not only responsive and reliable but also human. And though it may seem counterintuitive, technology has a big role to play in making that happen.
If Amazon can make it possible for us to find and order products in seconds and receive them on our doorstep the very next day, why should getting service on those products still be an exercise in old-school frustration? Automation in manufacturing, warehousing and distribution is what makes the Amazon experience so effortless.
It's time to turn up the emphasis on automation in the contact center and make the service experience as quick and easy as the Amazon product experience.
Create a Virtuous Circle
As organizations explore ways to bolster the performance of their contact centers in 2022, it's critical to focus on technology that empowers agents to fully leverage their human skills. Paying more attention to the needs of customer service agents will not only increase their loyalty (no small matter, now or ever!); it will also equip them to deliver those near-perfect customer experiences.
One way to deliver this is through a "people first" principle. Promoting the well-being of our employees—both at work and on their own time—helps encourage them to create innovative technology that keeps contact center teams engaged, productive and better able to satisfy their own customers.
Focus Innovation on Service
Traditionally generators of cost rather than revenue, customer service departments attract minimal attention or budget for innovation. But for many organizations, the contact center has become a key customer touch point and brand reputation driver since the pandemic forced a retreat from in-person business.
Suddenly, the contact center's lack of innovation is a real weakness. Standard technologies that worked well enough in the pre-pandemic office were often overwhelmed by unusually high call volume routed to agents—fewer in number and working from makeshift home offices—who were often under-equipped and poorly supported, impacting the ability to resolve customer issues.
Cultivate a "Problem-Out Approach"
Many technology providers take a "product-out" approach— creating or acquiring a product and convincing a target market that they have a problem that can only be solved by this new product.
Instead, these providers should be using a "problem-out" approach—asking customers to help us understand their business problems, exploring potential solutions together, getting their feedback throughout the product development phase, and creating solutions that specifically address those business problems.
This is a laborious process. It requires employees willing to listen to and learn from customers each day. It requires dozens of people to contribute their talents, ingenuity, and dedication over an extended period. I don't believe geniuses are pre-formed; I think talent is partly innate, but it always needs to be properly cultivated to realize its full potential.
The cultivation of talented people is the key to successful innovation. For example, eliminating employee distractions will lead to better end results. If employees are worried about a health plan that doesn't cover their needs or a schedule that doesn't permit an afternoon off to watch their kid's soccer match, they won't be able to fully focus on customer problems and innovating solutions to those problems.
Tie it All Together
Loyalty and commitment to excellence thrive in a climate of respect, and innovation is tough to achieve without them. I've found it's incredibly beneficial to make sure employees understand that the company "has their back," so they can focus on their "front"—i.e., the challenge of creating innovative solutions that drive our customers' success.
The key to successful innovation is not coding skills or big-name university degrees—it's properly cultivating the people who imagine and create those innovations. Providing them with the resources, support, time, and space they need to be successful is central to leadership. I believe it's the only way that true innovation can take root and thrive within an organization.
Like many other business functions, contact centers continue to struggle with the ongoing labor shortage. Many believe that more technology can solve the problem. I agree, but with an important caveat: Technology must be conceived and designed to fortify—not replace—human agents.
---
This article originally appeared on Customer Think.